New CNC Machine
St. Clair Glass and Mirror recently invested in a numerically controlled machining machine (CNC) which uses the latest technology to customize and cut glass is almost any shape and form.
This machine allows us to create new products such as V Groove table tops, glass with etching, customized special glass shapes, and much more.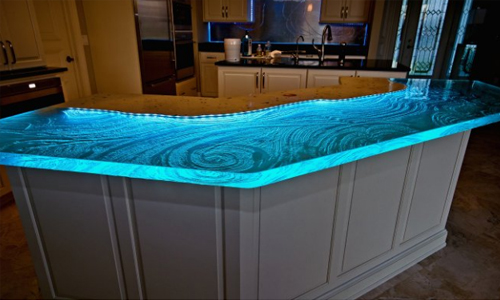 Starphire Glass
Starphire Glass adds brightness and elegance to your interior residential or commercial space. This product is noticeably clearer than ordinary traditional clear Float Glass. The unique edge of Starphire Glass allows the maximum amount of light to be transmitted to create a sparkling gem-like clarity, setting it apart from our traditional green edged glass.
Customers love this product, particularly for glass partitions, walls, showers, furniture pieces, table tops, shelves, sandblasted patterned glass, special thickness applications, office doors, decorative wall panels and entrances!
This product is available in thicknesses ranging from 3mm-19mm (1/8"-3/4").
Serenity Series Sliding Door and Fixed Panel
This unique seamless system has specially designed rollers that allow the door to float quietly and with ease, promoting serenity and relaxation at home. Because it requires minimal hardware, it is an excellent choice for a clean and sophisticated appearance. Not only is this series aesthetically pleasing, it is very practical for compact spaces. The Serenity Series enables you to enjoy the luxury of a shower installation even in a bathroom that does not permit a swinging shower door! This product is most popular for showers, tubs and certain entrances.
The Serenity Series is available in a polished stainless finish and brushed stainless finish.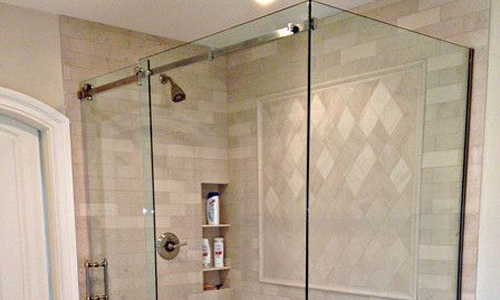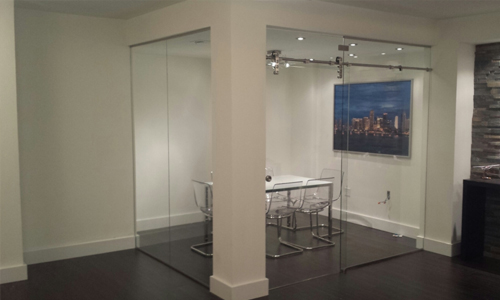 Laguna Interior Series Sliding Glass Door System
The Laguna system is colloquially known as a "barn door" typical style sliding system. It is a versatile hinge system and is applied to many products including room dividers, entrances, and offices. As a frameless system with minimal hardware, the Laguna series creates a sleek and modern look. This system is popular for both commercial and home spaces.
This product comes in a brushed stainless steel finish.
Hydraulic Patch
The hydraulic patch is an efficient and effective pivoting device for frame-less glass doors, and is a wonderful alternative to the floor closer. As a concealed floor spring, it has the features of a floor closer without the mess. A floor closer, which is used on many commercial frame-less glass doors requires drilling into the concrete floor, and more labour and time to set up a box and closer into the floor. The hydraulic patch however, can be installed quickly and easily without drilling into the floor!
Advantages:
Tidy and efficient installation
Smooth movement
Available for both standard doors and heavy doors
90 degree Hold Open feature, or No Hold Open feature
Suitable for door thicknesses of 8-12mm
Finish: brush stainless steel and polished stainless steel